3 "Cash Cow" Dividend Stocks Yielding Up to 23%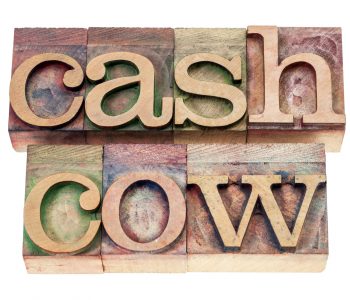 iStock.com/marekuliasz
Start Milking These Top Dividend Stocks for Extra-High Yields
If you're looking to earn higher yields from the stock market, then you need to look into this quiet niche of dividend stocks: cash cows.
Like their name implies, cash cows are mature companies that can be "milked" for income. Because they have less in the way of growth potential, these firms pay out all of their profits to investors.
For that reason, these stocks don't make the best water-cooler conversation. But for those of us willing to trade excitement for profits, these dividend stocks can be quite lucrative. Cash cows can pay yields as high as 23%.
The best part? Thanks to the recent stock market drop, some of these names look especially cheap. I've highlighted three of my favorites in the following list.
Brookfield Renewable Partners LP
Brookfield Renewable Partners LP (NYSE:BEP) wants to do something green for the planet. It also wants to create some "green" for investors.
The company, as implied by its name, owns a collection of renewable energy assets: solar plants, wind farms, and hydroelectric dams. It then sells the power generated from those assets to utilities on long-term contracts, delivering predictable cash flows. So as long as the sun shines and the wind blows, this business makes money.
Investors have long prized this stock for its reliable cash flows. Today, Brookfield Renewable Partners pays a quarterly distribution of almost $0.52, which comes out to an annual yield of 6.4%. Analysts project that this payout will grow at a mid-single-digit clip as management raises the company's prices over time.
BP Prudhoe Bay Royalty Trust
BP Prudhoe Bay Royalty Trust (NYSE:BPT) owns a collection of oil wells in Alaska. Workers completed constructing these wells decades ago and management has all of the required infrastructure in place. Now it's time for unitholders to kick up their feet and enjoy the fruit of those early investments.
Most drillers reinvest their earnings back into the business. BPT, in contrast, simply milks its operations for income. Because executives pay out every dollar earned, this trust pays an upfront yield of 23%.
These payments, of course, fluctuate with energy prices. And because management doesn't invest in finding new reserves, the trust's oil wells will run dry eventually. But if you understand the risks up front, BP Prudhoe Bay Royalty Trust can make for an attractive income stream.
Office Properties Income Trust
Investors can now collect a nine-percent yield from the U.S. government. I know what you're thinking: People pay "Uncle Sam" one-third of their paycheck. It doesn't work the other way around, right?
Actually, one financial trust allows ordinary investors to collect ongoing income from the government: Office Properties Income Trust (NASDAQ:OPI). The partnership owns a collection of office buildings, which it rents out to government agencies. These tenants are some of the most reliable renters around. And because those agencies often sign multi-decade lease agreements, OPI can circle the dates on the calendar years in advance for when it will get paid.
This has created a reliable income stream. Office Properties Income Trust pays a quarterly distribution of $0.55 per unit. That comes out to an annual yield of 9.2%.