218% Total Return From a Double-Digit Yielder?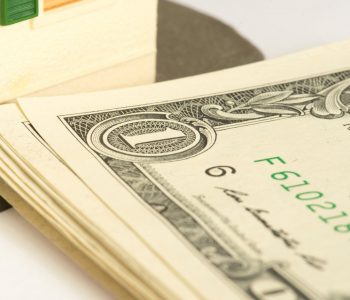 iStock.com/Stadtratte
Earn a 10.36% Yield from This High-Dividend Stock
In today's market, stocks offering the highest dividend yields tend not to be the best performers. In fact, the reason why many companies can offer a double-digit yield is that their share prices have plunged deep into the doldrums.
And that's why this high-yield stock is special. The company not only offers a yield north of 10%, but has outperformed the benchmark index by a mile.
I'm looking at Chimera Investment Corporation (NYSE:CIM), a real estate investment trust (REIT) headquartered in New York City.
Income investors are no stranger to REITs. These companies usually earn a rental income by leasing out their properties. Then, they distribute some of that income to investors through regular dividend payments.
Chimera, however, is a bit different. The company's main business is not actually renting out buildings. Instead, it focuses on investing in mortgage loans and mortgage-related securities. In other words, it is a mortgage REIT, or mRIET.
The company pays quarterly dividends of $0.50 per share. At the stock's current price, that translates to an annual dividend yield of 10.36%.
Here's the neat part: while an ultra-high yield could simply be the by-product of terrible share price performance, Chimera stock was actually soaring. In the last five years, the stock surged 43%.
What's even more impressive is the amount of total return CIM stock has provided to its shareholders over the years. In the five-year period ended June 30, 2017, this high-yield stock delivered cumulative total returns (which includes reinvestment of dividends) of 218%. (Source: "Investor Presentation," Chimera Investment Corporation, last accessed September 21, 2017.)
To give you some perspective, if an investor put their money in the SPDR S&P 500 ETF Trust (NYSEARCA: SPY), an exchange-traded fund that tracks the S&P 500 Index, their total return in the same five-year period would have been 97% with reinvestment of dividends.
CIM stock also outperformed its peers. If an investor held the iShares Mortgage Real Estate Capped ETF (BATS: REM), an ETF that tracks the FTSE NAREIT All Mortgage Capped Index, they would have collected a total return of just 48% in the five-year period.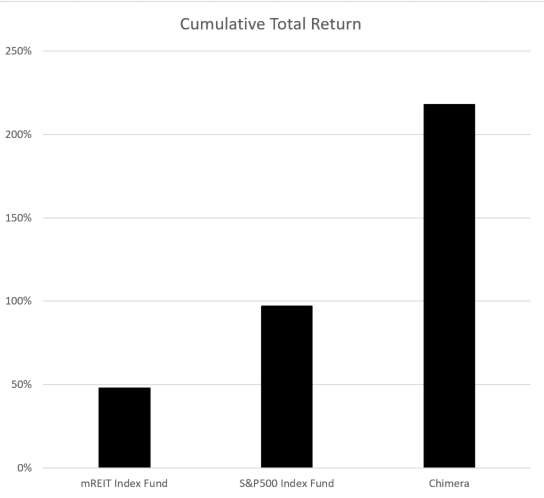 Source: "Investor Presentation," Chimera Investment Corporation, last accessed September 21, 2017.
High Dividends Backed by a Solid Business
The reason why Chimera can deliver such impressive results lies in the nature of its business. mREITs may seem a bit more complicated than property REITs, but Chimera's business is fairly easy to understand.
The company invests in residential loans, residential mortgage-backed securities (RMBS), and commercial mortgage-backed securities (CMBS). Chimera uses leverage (borrowing money) to finance the acquisition of mortgages and mortgage-backed securities. The profit comes from the difference between the income it earns on its mortgage assets and the cost of its borrowing.
Now, I know what you are thinking: mortgage-backed securities do not have the best reputation, given what happened in the last financial crisis. However, a sizable portion of Chimera's MBS portfolio are invested in agency MBS. These are mortgage-backed securities created by the Federal National Mortgage Association (Fannie Mae), the Government National Mortgage Association (Ginnie Mae), or the Federal Home Loan Mortgage Corporation (Freddie Mac). Agency mortgage-backed securities are backed by the agencies that issued them, guaranteeing that the principal amount of the loan will be repaid.
Chimera's business is quite lucrative. By the end of June 2017, the company's portfolio consisted of 138,612 loans with a weighted average coupon rate of 7.04%. The total portfolio's net interest spread was 2.7%.
Of course, as is the case with any high-yield stock, some investors may be concerned about the company's dividend safety. So let's take a look at its financials.
Chimera reported earnings last month. In the second quarter of 2017, the company generated net interest income of $150.7 million, representing a 9.3% improvement year-over-year. Earnings came in at $0.56 per share, a huge increase from the $0.39 per share earned in the year-ago period. (Source: "Chimera Investment Corporation Releases 2nd Quarter 2017 Earnings," Chimera Investment Corporation, August 2, 2017.)
In particular, the $0.56 of earnings per share was more than enough to cover the $0.50 of dividends declared for the quarter. In the first half of this year, the company generated $1.40 of earnings per share while paying $1.00 of total dividends per share. That translates to a payout ratio of 71.4%, leaving a margin of safety.
Final Thoughts on This High-Yield Stock
At the end of the day, there are companies offering higher yields than CIM stock. But when you take into account the profitability and the longevity of each company's business, it's easy to see why Chimera is one of the few high yield stocks that actually deserves income investors' attention.