AAPL Stock: Is Apple Inc. a Great Dividend Play for 2017?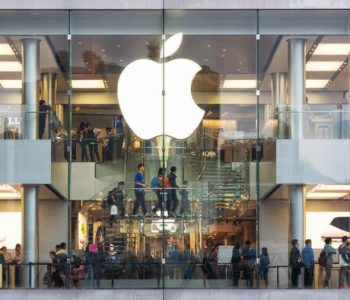 This Could Be Huge for Apple Stock
With a 10% climb, 2016 was not exactly a bad year for Apple Inc. (NASDAQ:AAPL) stock. However, compared to other hot tickers in the tech sector, Apple stock's performance looked a bit lackluster.
Still, investing in Apple stock could be more rewarding in 2017, especially for income investors.
The main reason why Apple stock lost some investor appeal was the year-over-year declines in revenue. No matter how the company put it, investors today simply don't like companies—especially those in the tech sector—that can't generate increasing top-line numbers.
This year, though, things could be different.
You see, Apple launched the "iPhone 7" and "iPhone 7 Plus" in September of 2016. While many people doubted whether the new flagship models would find an audience, they still turned into huge hits. Several U.S. wireless carriers reported record numbers of iPhone 7 sales. Here's how hot the devices were when they were released: if you ordered a jet-black iPhone 7 or iPhone 7 Plus model two weeks after their release, you would still wait up to two months before getting your hands on Apple's latest smartphone. (Source: "Not even Apple was expecting its 'boring' new iPhone 7 to be this popular," BGR, September 28, 2016.)
The "iPhone" is the biggest revenue contributor for Apple. In the previous quarter, it accounted for over 60% of the company's total revenue. (Source: "Apple Inc. Q4 2016 Unaudited Summary Data," Apple Inc., October 25, 2016.)
Note that during the previous earnings conference call, Apple Senior Vice President and Chief Financial Officer Luca Maestri said that the company expects to generate between $76.0 billion and $78.0 billion in revenue for the December quarter. That would beat its all-time quarterly revenue record of $75.9 billion reached in the year-ago period. (Source: "Apple (AAPL) Q4 2016 Results – Earnings Call Transcript," Seeking Alpha, October 25, 2016.)
Don't forget that Apple stock could also benefit from another one of its segments, Services. While Apple is mostly known as a hardware device maker, its Services segment has become the fastest-growing segment at the company. Last quarter, Apple's Services revenue grew 24% year-over-year to an all-time quarterly record of $6.3 billion.
What this means is that Apple could have had a tremendous December quarter. The company is expected to report earnings later this month. If it can put the words "record results" in the headline again, it could significantly boost the appeal of AAPL stock.
Is AAPL Stock a Great Income Play?
Of course, as income investors, Apple stock price does not paint the whole picture. The company also needs to deliver value to shareholders. And on that front, 2017 could have some good news.
Unlike many companies in the tech sector, Apple's business is already established. It runs a hugely profitable business and can afford to return some of that profit to shareholders.
Right now, the company pays $0.57 of dividends per share on a quarterly basis, giving AAPL stock an annual yield of almost two percent. At the same time, Apple is also buying back its shares. In the last quarter alone, the company returned $9.3 billion to Apple stock investors through dividends and share repurchases.
But that could just be the beginning. The U.S. President-elect, Donald Trump, is about the take office. He has said that he wants a one-time 10% tax rate when companies bring back their profits held offshore.
By the end of the last quarter, Apple had over $200.0 billion of cash, most of which was held overseas. If Trump's policies can encourage the iPhone maker to bring some of that cash back to the U.S., it could be a big deal for AAPL stock investors. The company could boost its quarterly dividend rate, issue a special dividend, and/or increase its already aggressive share buyback program. At the same time, more cash also means Apple could reinvest more into its business, and has more freedom when it comes to acquisitions.
That is, other than its serious upside potential, Apple stock is also setting up to be a great income play in 2017.