20.3%-Yielding Diana Shipping Stock's Dividend Hiked for 3rd Straight Quarter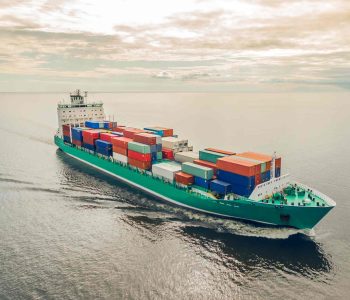 DSX Stock Up 44% Year-to-Date; Dividend Hiked to $0.275/Share
Diana Shipping Inc (NYSE:DSX) is short on news, but the company makes up for it with a market-crushing stock price and growing, ultra-high-yield dividends. With a low payout ratio of 40.2%, there's plenty of room for the company to announce additional dividend hikes this year.
Athens, Greece-based Diana Shipping provides global marine shipping transportation services. The company's dry bulk vessels are primarily employed for short-term and medium-term charters on worldwide shipping routes. (Source: "About Us," Diana Shipping Inc, last accessed September 19, 2022.)
Its fleet of 34 dry vessels consists of four Newcastlemax, 11 Capesize, five Post-Panamax, six Kamsarmax, and eight Panamax ships. The ships have a combined carrying capacity of about 4.4 million deadweight tonnage (dwt), as well as a weighted average age of 10.4 years.
The company has sold one of its Capesize vessels, "Baltimore," and expects to deliver it to its new owners in the third quarter of 2022. The company also expects to receive nine Ultramax vessels in the fourth quarter of 2022. Those ships, purchased for $330.0 million, were built between 2015 and 2018 and have an average age of 5.4 years.
After those changes, Diana Shipping Inc's fleet will consist of 43 dry bulk vessels with a weighted average age of 10.5 years. The carrying capacity of the company's fleet will increase to approximately 4.9 million dwt. The bulked-up fleet will help the company take even better advantage of the high demand for dry bulk shipping. That demand is expected to continue for the long term, in spite of a potential global recession.
Seasonal fluctuations and economic tailwinds and headwinds mean that the price of Diana Shipping stock ebbs and flows. As of this writing, DSX stock is:
Down by 15% over the last month
Down by five percent over the last three months
Up by 10% over the last six months
Up by 44% year-to-date
Up by four percent year-over-year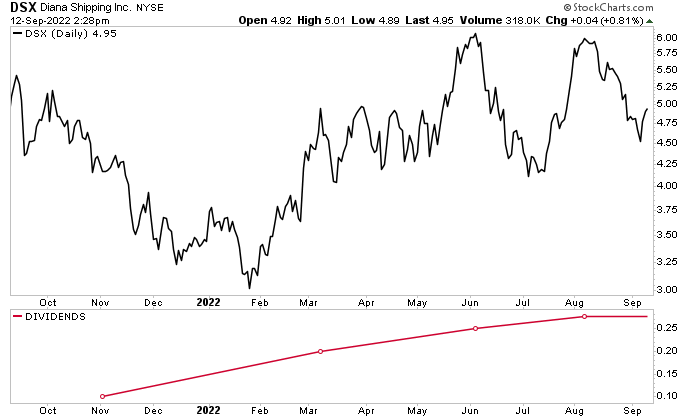 Chart courtesy of StockCharts.com
Diana Shipping only restarted distributing quarterly dividends in late 2021 after stopping them at the end of 2008.
In November 2021, the company paid quarterly dividends of $0.10 per share. In March 2022, it doubled that to $0.20 per share. Since then, the company has continued to raise Diana Shipping stock's dividends. In May, the company raised DSX stock's dividend by 25% to $0.25 per share. In July, it raised the dividend to $0.275 per share, for a yield of 20.3%. (Source: "Dividend History," Diana Shipping Inc, last accessed September 19, 2022.)
Q2 Net Income Soars to $35.6 Million
For the second quarter ended June 30, Dianna Shipping Inc reported revenues of $745.0 million, a 58.5% increase over its second-quarter 2021 revenue of $47.0 million. (Source: "Diana Shipping Inc. Reports Financial Results for the Second Quarter and Six Months Ended June 30, 2022; Declares Cash Dividend of $0.275 per Share for the Second Quarter 2022," Diana Shipping Inc, July 28, 2022.)
The company's time charter revenue in the second quarter was $74.5 million, compared to $47.0 million in the same prior-year period. The big jump was due to Diana Shipping's average time charter rates increasing enough to partly offset the company's revenue decrease, which was due to a year-over-year reduction in the size of the company's fleet and an increase in its off-hire days.
Diana Shipping Inc's second-quarter 2022 net income was $35.6 million, or $0.42 per share, up significantly from $2.8 million, or $0.02 per share, in the second quarter of 2021.
The company's net income in the first six months of this year was $58.7 million, or $0.73 per share. That's up from a loss of $1.4 million, or $0.02 per share, in the first half of last year. Its time charter revenues in the first six months of 2022 were $140.5 million, compared to $88.1 million in the same period of 2021.
The Lowdown on Diana Shipping Inc
When it comes to stocks, timing is everything, and right now, the stars are aligning for marine shipping stocks like Diana Shipping stock.
Diana Shipping Inc had an excellent second quarter, continuing the company's trend of high profitability since the middle of 2021. Market conditions were positive during the second quarter, which allowed the company to continue generating a robust amount of free cash flow. The strong market conditions allowed management to announce an even higher quarterly dividend, reflecting the company's confidence in its future.