AAPL Inc.: The Only 2 Reasons to Be Bullish on AAPL Stock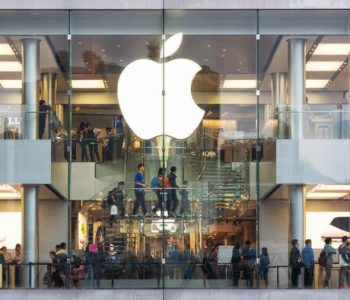 Are the Bears Wrong on Apple Stock?
Apple Inc. (NASDAQ:AAPL) stock is on the rise. In the past three months alone, it returned nearly 20%, adding approximately $100.0 billion to Apple stock's market cap.
But looking bit further back, you see that Apple stock is still down double digit compared to its peak reached last summer. AAPL stock bears do seem to have a point; the hardware device business isn't the most exciting one these days.
Despite all the projects that Apple is reportedly working on at the moment, it is still a hardware device maker. In the company's most recent fiscal quarter, the "iPhone," "iPad," and "Mac" generated $34.2 billion in sales, accounting for more than 80% of Apple's total revenue. (Source: "Apple Inc. Q3 2016 Unaudited Summary Data," Apple Inc., July 26, 2016.)
The concern is that to keep making money in the device business, Apple has to come up with products that consumers want to buy. If demand suddenly shrinks due to the company's own reason or the entrance of a new competitor—think what happened to BlackBerry Ltd (NASDAQ:BBRY)—then the good days could be over very soon.
Many hardware device makers are facing that concern. Just take a look at the stock prices of GoPro Inc (NASDAQ:GPRO) and Fitbit Inc (NASDAQ:FIT) over the past 12 months and you'll see the point.
So why do people still love Apple stock?
Well, first of all, Apple differs from the up-and-coming device makers in that its business is already established and hugely profitable. What this means is that the company is in a position to return value to shareholders.
As Apple reestablished its presence in the tech world, it also resumed its dividends in 2012. Since then, Apple's quarterly dividend rate has increased by more than 50%. Right now, the company pays $0.57 per share each quarter, translating to an annual dividend yield of 2.01%.
Despite the frequent dividend hikes, AAPL stock's dividends still have room for growth. In its fiscal 2015, Apple declared $1.92 of dividends on $9.22 of earnings per share (EPS), so the company was paying out just over 20% of its earnings. (Source: "Apple Reports Record Fourth Quarter Results," Apple Inc, October 27, 2015.)
Also Read:
AAPL Stock: Why Apple Inc. Is a Top Dividend Growth Stock
AAPL Stock: Is Apple Inc. a Great Dividend Play for 2017?
And then there are buybacks. Earlier this year, Apple's board of directors authorized a $50.0-billion increase to its capital return program. Under the expanded program, the company would spend a total of $250.0 billion of cash on dividends and share repurchases by the end of March 2018. By June 25th, 2016, Apple has completed almost $177.0 billion of the $250.0-billion program.
Of course, Apple stock bears can still argue that the company is returning value to shareholders because it can't find investments to generate good enough returns on capital, but that's not really the case. While Apple doesn't usually announce its future projects, reports have suggested that the company is working on electric cars, smart home systems, and virtual and augmented reality projects.
In order to keep returning value to shareholders, Apple has to keep making money from its hardware device business. And that brings us to the second reason to turn bullish on Apple stock: its huge following.
The hardware device business is competitive, and while some investors consider Apple's performance in the previous two quarters to be lackluster, the company is far from over. In its fiscal third quarter ended June 25th—a period when consumers are anticipating the launch of the iPhone 7 in September—Apple sold over 40 million units of iPhones.
The point is that consumers knew that Apple was about to release a new product and they still bought 40-million units of the current one. And it's not like those phones were a bargain; compared to the vast majority of smartphones on the market, the iPhone is quite expensive.
Another concern is that there won't be any new major technologies to fit onto people's smartphones, so there is no point to buying a new one. Well, guess what? Even though Apple did not release first weekend sales of the "iPhone 7," reports from wireless carriers such as T-Mobile US (NASDAQ:TMUS) and Sprint Corp (NYSE:S) all indicated that the latest iPhone launch was a huge success. Moreover, around the world, Apple fans were still lining up outside Apple Stores to be the first ones to get it.
The Bottom Line on AAPL Stock
In Apple's business, companies are not making necessities; consumers will only buy a product if they want it. That's why having a huge following will be key to Apple's future success. Few people need an iPhone more than they need a $100.00 budget smartphone from other companies. But because they want the iPhone, they are willing to pay a premium for it. Combine that with Apple's willingness to return value to shareholders and Apple stock remains a solid pick for income investors.