A 15% Yield From North America's Oldest Bank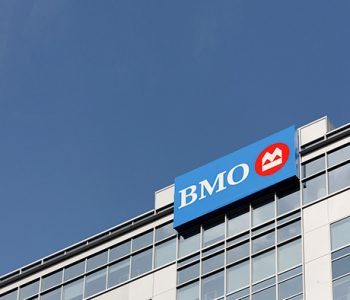 iStock.com/wellesenterprises
This "Forever Asset" Soared 292%
Some folks can't stop fiddling with their investments.
You always see them trading this or swapping into that. They get hooked on the action, constantly searching for the next big score.
Good things, however, take time. By owning wonderful businesses that regularly raise their dividends, we slowly grow our wealth. Give it a few years and these income trickles can become raging rivers of cash flow.
Sure, it doesn't make for great cocktail party conversation. Most people roll their eyes at stodgy dividend growers like Tootsie Roll Industries, Inc. (NYSE:TR), Colgate-Palmolive Company (NYSE:CL), and Genuine Parts Company (NYSE:GPC). Through patience and discipline, however, longtime owners can earn double-digit yields on their original investments.
That brings me to today's topic.
In 2009, we recommended the Bank of Montreal (NYSE:BMO) to readers in our Income for Life advisory. At the time, we admired the company's commitment to shareholders through ongoing dividends. Thanks to its entrenched market position and conservative culture, the Canada-based company has paid out distributions for nearly 200 years, making this "forever asset" one of the oldest dividend payers in North America.
Patience, it seems, has paid off. Since we first added shares to the model dividend portfolio, BMO has boosted its payout 10 times, and shares have posted a total return (assuming all dividends had been reinvested) of 292%. Investors who bought and held over that period now earn a 15% yield on cost, far outpacing the rates available on certificates of deposit, bonds, or other fixed-income investments.
Those dividend checks will likely keep getting bigger.
Six banks dominate Canada's financial sector, accounting for the vast majority of the country's banking deposits. This gives them a scale advantage that keeps small rivals out of the business.
Moreover, BMO does a lot more than just take deposits and lend money. Management describes the business as a "financial supermarket," offing a full range of services from insurance and investment banking to financial planning and credit cards. With each new product sold, Canadians become increasingly tied to their main bank. This stickiness allows BMO to raise fees and prices each year, without the worry of customers switching to a rival bank down the road.
Such a fortified market position has turned BMO into a profit machine. Over the last 10 years, the bank has generated more than $0.15 of profit for every dollar of equity invested into the business. By comparison, U.S. financial institutions, which suffer from cutthroat competition, have only returned about $0.06 over the same period.
All of this bodes well for income investors. Thanks to growing stream of revenue and profits, analysts expect BMO to grow earnings at a high-single-digit clip through 2022. Historically, the dividend has increased more or less in line with profits.
Let's conservatively assume the bank will hit the low end of its dividend guidance for the next five years. That means the payout would grow to $1.03 by 2020. Based on our original entry price, that brings our yield on cost up to 22.5%.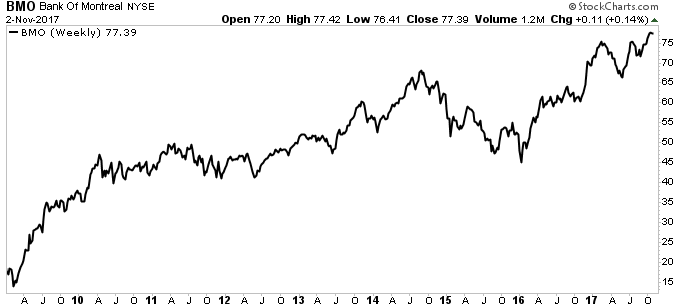 Source: "Bank of Montreal (BMO)," Yahoo! Finance, last accessed November 3, 2017.

Of course, I doubt BMO will deliver another 292% gain for the next eight years.
We recommended shares at the height of the financial crisis. At the time, you could pick up incredible assets–especially banks–for pennies on the dollar.
Canadian household debt levels have also neared their limits. And with Canada's domestic market nearing saturation, lenders have looked to less profitable markets abroad to grow their businesses.
That said, forever assets like BMO still represent an attractive place to put new money to work. While growth may slow in the coming years, the industry will still offer high returns on equity. Compounding double-digit returns, though not the most exciting endeavor, still represents a profitable investing formula.