15.2%-Yielding Trinity Capital Stock Perfect for Higher Interest Rates?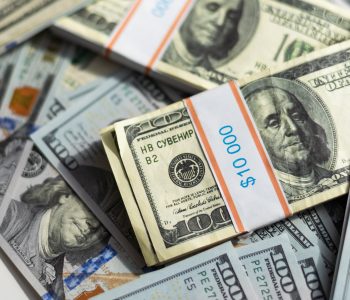 Why TRIN Stock's Price Has More Upside
Industry tailwinds are making "alternative banks" like Trinity Capital Inc (NASDAQ:TRIN) increasingly compelling. In just a year and a half, the Federal Reserve has raised interest rates an unprecedented 11 times to a target range of 5.25% to 5.5%, its highest level since 2001.
Chances are good the Fed won't raise its rates much higher, but it does expect borrowing costs to stay high for years to come. Analysts expect interest rates to stay above five percent in 2024 and to be approximately four percent at the end of 2025. That might not sound all that high, but it's roughly double what they were at the end of 2019.
Yes, inflation will eventually be tamed and more reliable economic growth will return, but Wall Street expects borrowing costs to remain well above the pre-pandemic level for years to come.
Why? In spite of 11 interest rate hikes, the U.S. economy remains resilient. In early 2022, analysts were predicting that even a few rate hikes would tame inflation. They didn't. If anything, the aggressive rate hikes have proven that the U.S. economy is strong and that it might be able to handle even higher borrowing costs.
Interest rate hikes are bad news for people with credit card debt and mortgages, but they're good news for business development companies (BDCs) like Trinity Capital Inc.
About Trinity Capital Inc
Trinity Capital provides term loans and equipment financing to growth-stage companies. A growth-stage company is defined as having active equity sponsors, earning annual revenues of up to $100.0 million, and being past its risky early-development stage. (Source: "Second Quarter 2023 Investor Presentation," Trinity Capital Inc, last accessed October 10, 2023.)
Trinity Capital has a successful track record of serving a multibillion-dollar, under-served niche market. Since its inception in January 2008, the company has made 298 investments and 171 exits.
As of the second quarter, Trinity Capital Inc's investment portfolio had an aggregate fair value of about $1.2 billion. The portfolio comprised approximately $856.0 million worth of secured loans, $244.1 million worth of equipment financings, and $47.9 million worth of equity and warrants across 187 companies.
Trinity Capital's partner portfolio consists of companies that operate in sectors including chemicals and fuels; clean technology; commercial services; consumer and retail; energy and efficiency; health care; the Internet of Things; semiconductor and hardware; and software. (Source: "Meet Our Partners," Trinity Capital Inc, last accessed October 10, 2023.)
Trinity Capital has backed some of the world's most innovative companies. Its current partner portfolio includes Axiom Space, Inc., GrubMarket, Impossible Foods Inc., and Nexus Systems Group Inc. Three companies that Trinity Capital was an early investor in are Lucid Group Inc (NASDAQ:LCID), Matterport Inc (NASDAQ:MTTR), and Maxwell Lender Solutions, Inc.
Total Investment Income Jumped 37%
For the second quarter ended June 30, Trinity Capital announced that its total investment income jumped by 37.3% year-over-year to $46.0 million. Its net investment income grew by 40.8% to $22.1 million, or $0.61 per share. (Source: "Trinity Capital Inc. Reports Second Quarter 2023 Financial Results," Trinity Capital Inc, August 2, 2023.)
During the second quarter, Trinity Capital originated about $218.5 million worth of total new commitments.
It also funded gross investments of approximately $154.9 million, which included $103.1 million worth of investments in five new portfolio companies and $48.3 million worth of investments in seven pre-existing portfolio companies.
Steve Brown, Trinity Capital's chairman and CEO, commented, "Our [net investment income] performance and portfolio strength this quarter demonstrate that Trinity's differentiated platform can excel in all cycles." (Source: Ibid.)
Trinity Capital Inc Increased Base Dividend for 11 Straight Quarters
Thanks to Trinity Capital's outstanding performance, it has been able to increase its base dividends for 11 consecutive quarters.
On September 13, the company announced a third-quarter cash dividend of $0.54 per share, for a yield of 15.27%. The payout comprised a base dividend of $0.49 per share and a supplemental cash dividend of $0.05 per share.
Trinity Capital Inc's third-quarter dividend was up from a second-quarter payout of $0.53 per share, which comprised a base dividend of $0.48 and a supplemental cash of $0.05. In the third quarter of 2022, the BDC paid a dividend of $0.45 per share and a supplemental cash dividend of $0.15 per share.
Trinity Capital Stock Up 40% in 2023
I last wrote about TRIN stock in March. That was when SVB Financial Group (NYSE:SIVB), aka Silicon Valley Bank, said it was forced to sell securities at a loss to manage lower deposit levels and higher interest rates.
While the sale of those securities only affected customers who had money in that particular bank, investors feared that the Silicon Valley Bank's underlying weakness could undermine the bottom lines of other banks and the financial health of the broader banking industry. As a result, knee-jerk investors kicked banking stocks off a cliff.
Before the March 11 sell-off, Trinity Capital stock was actually up by roughly 30% year-to-date. But due to the broad-based sell-off, the stock's year-to-date gain is now just 2.9% (as of this writing).
The sell-off of TRIN stock in March made zero sense. Trinity Capital Inc didn't hold any deposits or securities, nor did it have any accounts or credit facilities with Silicon Valley Bank. Moreover, just days before the Silicon Valley Bank dam burst, analysts at UBS adjusted their price target for Trinity Capital stock from $13.00 to $16.00 per share.
In early March, analysts at B. Riley Financial had lifted their price target for TRIN stock from $13.00 to $14.00 per share after Trinity Capital Inc reported better-than-expected fourth-quarter earnings.
The two analysts pointed to potential upside in the range of 14.6% to 41.0%.
Trinity Capital stock rebounded quickly but fell victim to additional negative investor sentiment. Again, the negativity was unfounded.
Eventually, saner heads prevailed and investors realized that Trinity Capital Inc had performed exceptionally well in terms of financial growth in 2022, and that analysts were bullish on TRIN stock in 2023. On August 3, the stock hit a new 52-week high of $14.79. That represents a 30.4% increase from its share price at the time of my profile of the stock in March.
Trinity Capital stock has given up some short-term ground to profit-taking, but it continues to trade above $13.60 per share.
As of this writing, TRIN stock is up by 40% year-to-date and 28% year-over-year.
Those are solid gains, and the stock's outlook is even better. Wall Street analysts have provided a 12-month share-price estimate for Trinity Capital Inc in the range of $15.75 to $17.00. This points to gains in the range of 15% to 24%.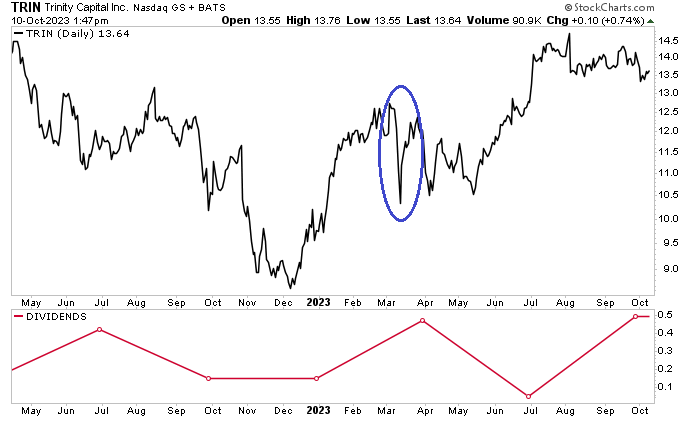 Chart courtesy of StockCharts.com
The Lowdown on Trinity Capital Stock
Trinity Capital Inc is a great BDC that reported an "exceptional" year of financial growth in 2022. It has continued that momentum in 2023. That's one reason why TRIN stock was able to rebound and rip to a new 52-week high so quickly.
In March, Kyle Brown, the company's president and chief investment officer, said, "Trinity is operating on all cylinders. We have a healthy portfolio, solid balance sheet and ample liquidity…" (Source: "Trinity Capital Inc. Reports Fourth Quarter and Full Year 2022 Financial Results," Trinity Capital Inc, March 2, 2023.)
The company's strong performance has allowed it to increase Trinity Capital stock's base dividend for 11 straight quarters and pay reliable special quarterly dividends.