Bullish 15%-Yielding Icahn Enterprises Stock Up 18% in 2022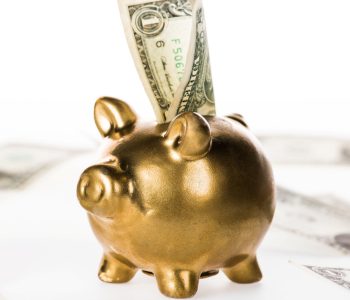 IEP Stock's Inflation-Crushing High-Yield Dividend Is Safe
If you're an income hog who wants to see your underlying investment rise, Icahn Enterprises LP (NYSE:IEP) might be a smart option right now.
For one thing, IEP stock pays dividends of $2.00 per share, for a yield of about 15%.
Moreover, in terms of share price, Icahn Enterprises stock has been beating the broader market. As of this writing, it's up by:
Eight percent over the last month
Six percent over the last three months
Six percent over the last six months
18% year-to-date
Seven percent year-over-year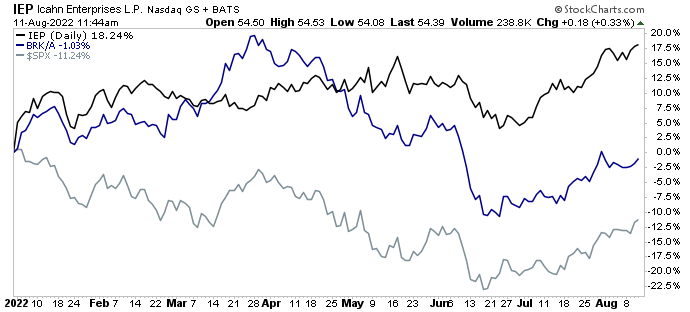 Chart courtesy of StockCharts.com
About Icahn Enterprises LP
Billionaire investor Carl Icahn is the person behind the name Icahn Enterprises, owning 79.6% of the $16.5-billion company. The partnership is a diversified holdings company with assets worth approximately $21.0 billion. It has eight operating segments: Automotive, Energy, Food Packaging, Home Fashion, Investment, Pharma, and Real Estate. (Source: "Investor Presentation: May 2022," Icahn Enterprises LP, last accessed August 11, 2022.)
Through its investment arm, Icahn Enterprises invests in public equity and debt securities and pursues an activist agenda. Companies it has invested in over the years include Apple Inc (NASDAQ:AAPL), eBay Inc (NASDAQ:EBAY), Herbalife Nutrition Ltd (NYSE:HLF), Motorola Solutions Inc (NYSE:MSI), and Xerox Holdings Corp (NASDAQ:XRX).
Icahn Enterprises LP operates in the energy sector through CVR Energy, Inc. (NYSE:CVI), an independent refiner and marketer of transportation fuels, and CVR Partners LP (NYSE:UAN), a producer and distributor of nitrogen fertilizer products.
The partnership's real estate segment is mainly made up of investment properties, the development and sale of single‐family homes, and the management of a country club. It also owns a hotel and timeshare resort in Aruba and a property in Atlantic City, NJ.
Icahn Enterprises LP conducts its home fashion segment through its wholly owned subsidiary WestPoint Home LLC., which owns brands including "Grand Patrician," "Luxor," "Martex" and "Vellux."
The company sells aftermarket automotive parts and provides automotive services through AAMCO, AutoPlus, Pep Boys, and Precision Auto Care.
Icahn Enterprises LP has a successful history of knowing when to enter and exit investments.
In 2017, the company sold American Railcar Leasing for $3.4 billion, resulting in a pre‐tax gain of $1.7 billion
In 2018, it sold Federal‐Mogul for $5.1 billion, resulting in a pre‐tax gain of $251.0 million; Tropicana for $1.5 billion, resulting in a pre‐tax gain of $779.0 million; and American Railcar Industries for $1.8 billion, resulting in a pre‐tax gain of $400.0 million
In 2019, it sold Ferrous Resources for about $550.0 million, resulting in a pre‐tax gain of $252.0 million
In 2021, the company completed the sale of 100% of its equity interest in PSC Metals, LLC for $323.0 million
Q2 Net Income Jumps 261%; Distributable Earnings Jump 281%
For the second quarter ended June 30, Icahn Enterprises reported revenue of $3.5 billion and a net loss of $128.0 million, or $0.41 per unit. During the second quarter of 2021, the company's revenue was $3.0 billion and its net loss was $136.0 million, or $0.53 per unit. (Source: "Icahn Enterprises L.P. Reports Second Quarter 2022 Financial Results," Icahn Enterprises LP, August 4, 2022.)
In the first six months of this year, the company's revenue was $7.6 billion and its net income was $195.0 million, or $0.64 per unit. That was up from revenue of $6.4 billion and net income of $26.0 million, or $0.10 per unit, in the same period of 2021.
How can Icahn Enterprises stock pay out frothy dividends even when the company reports big net losses? Icahn Enterprises LP pays its distributions through available liquidity in its investment fund, which it can access on a daily basis. That fund currently stands at $4.5 billion.
On August 3, the partnership's board declared a distribution of $2.00 per unit, which is unchanged from the previous quarter and payable on September 28 to investors of record as of August 19.
The Lowdown on Icahn Enterprises LP
As mentioned above, Icahn Enterprises LP is a diversified holding company that continues to reward investors with long-term capital appreciation and reliable ultra-high-yield dividends, which currently have a yield of about 15%.
IEP stock's average dividend yield over the last five years is 12.9%.