This 11.1% Yield Just Became Safer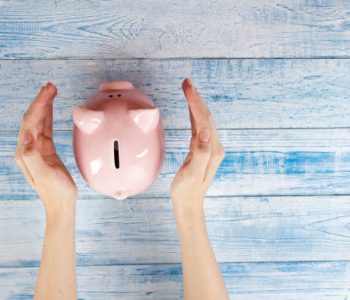 iStock.com/Avosb
AGNC Stock: A Safe Income Stream to Consider
We know that high-yield stocks are usually not the safest bets, but you might want to make an exception for AGNC Investment Corp (NASDAQ:AGNC).
To most consumers, AGNC Investment Corp may not sound like a familiar name. And that's because the company does not sell a product or service to the mass market directly. Instead, it is a real estate investment trust (REIT) that invests mainly in mortgages rather than physical properties.
Headquartered in Bethesda, Maryland, the company was founded back in 2008.
Due to its generous dividend policy, AGNC stock has been on my radar for quite some time. Trading at $19.42 apiece, the company offers investors an annual dividend yield of 11.1%. In a market where the average S&P 500 company pays less than two percent, a double-digit yield can go a long way toward boosting the return of an income portfolio. (Source: "S&P 500 Dividend Yield," Multpl.com, last accessed July 26, 2018.)
What's more is that AGNC Investment Corp also follows a more frequent distribution schedule compared to most other dividend stocks. While the vast majority of companies pay dividends on a quarterly basis, AGNC stock returns cash to investors every month.
But of course, as I mentioned earlier, ultra-high yielders often turn out to be risky. Therefore, as income investors, it's critical for us to check whether the company can actually afford its payout. On that front, the company has just delivered some good news.
Is AGNC Investment Corp's Dividend Safe?
AGNC Investment Corp announced its second-quarter earnings last week. Due to the nature of its business, the company reports something called net spread and dollar roll income. This metric is calculated by taking net interest income; adjusting for to-be-announced dollar roll income, interest rate swap periodic income/cost, and dividend income from REIT equity securities; and then adding management fee income and subtracting total operating expense.
In the second quarter of 2018, ANGC's net spread and dollar roll income, excluding "catch-up" premium amortization, came in at $0.63 per diluted share. (Source: "AGNC Investment Corp. Announces Second Quarter 2018 Financial Results," AGNC Investment Corp, July 25, 2018.)
Now, keep in mind that, in the second quarter, the company declared three monthly dividends of $0.18 per share, which totaled $0.54 per share. Divide total dividends by its net spread and dollar roll income and you'll see that AGNC Investment Corp achieved a payout ratio of 85.7%.
Is that number good? Well, for one thing, the company's latest payout ratio represented a solid improvement from three months ago.
You see, in the first quarter of 2018, AGNC Investment Corp generated net spread and dollar roll income, excluding "catch-up" premium amortization, of $0.60 per share. Since its dividends were the same—three monthly payments totaling $0.54 per share—the payout ratio came out to 90%. (Source: "AGNC Investment Corp. Announces First Quarter 2018 Financial Results," AGNC Investment Corp, April 25, 2018.)
When it comes to dividend safety, a lower payout ratio is always a welcoming sign. By going from 90% to 85.7%, AGNC Investment Corp's payout ratio suggests that its dividends have gotten safer.
AGNC Investment Corp Payout Ratio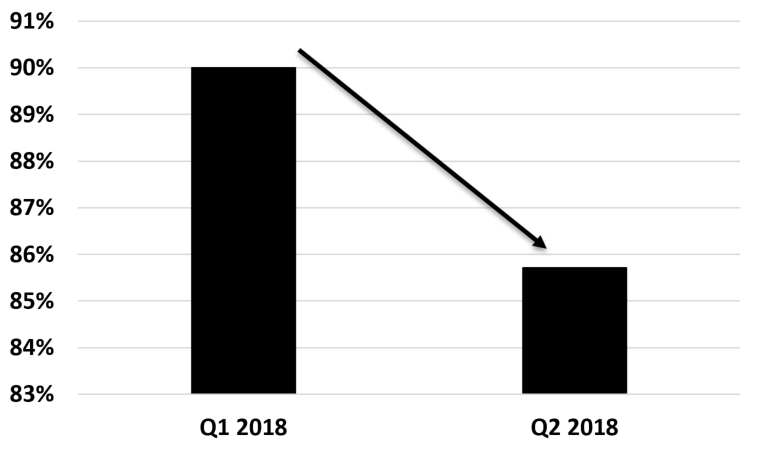 (Source: Ibid.)
At the same time, we should not forget that the company has to maintain its status as a REIT, meaning it must return most of its profits to shareholders through dividend payments. That's why REITs have become the higher-yielding names in today's market, and their payout ratios tend to be high, too. So even though AGNC's payout ratio is not really low compared to companies in other industries, this improvement still deserves attention.
Managing Risks
Of course, as a mortgage REIT, AGNC Investment Corp still has another issue to address: the underlying risk in its investments. Due to what happened in the last financial crisis, investors are well aware of the risk of investing in mortgages.
The good news is that AGNC has been focusing on agency mortgage-backed securities (MBSs). These are MBSs with the principle and interest payments guaranteed by government-sponsored enterprises such as the Government National Mortgage Association (Ginnie Mae), the Federal National Mortgage Association (Fannie Mae), and the Federal Home Loan Corporation (Freddie Mac).
As of June 30, approximately 73% of AGNC's $77.1-billion portfolio was invested in agency MBSs. This helps the company limit the risk of potential defaults in the underlying mortgages of its portfolio. (Source: "Q2 2018 Stockholder Presentation," AGNC Investment Corp, July 26, 2018.)
The Bottom Line on AGNC Investment Corp
Despite its improving dividend safety, AGNC stock hasn't caught that many investors' attention. Year-to-date, shares of this mortgage REIT are actually down nearly four percent, so it could be an opportunity for bargain hunters. Adding in its double-digit dividend yield, AGNC Investment Corp looks like a solid income play.