10 Top Dividend Stocks Yielding Up to 12.5%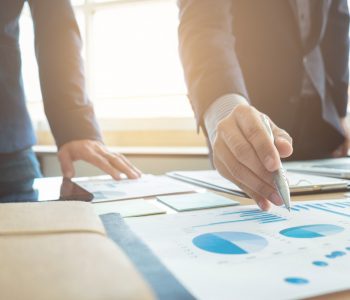 iStock.com/Pattanaphong Khuankaew
Who Else Needs More Income?
Retirement planning used to be simple.
All you had to do was save up a nest egg and invest the proceeds in something safe. The interest income would be more than enough to fund a comfortable retirement and maybe a trip or two.
Not anymore. Low interest rates have sidelined the retirement plans for many Americans. Many people have found themselves working far longer than expected, if they can retire at all.
A soaring stock market hasn't helped matters, either. Nowadays, the yield on the Dow Jones Industrial Average comes in at just two percent. Even with a multi-million-dollar nest egg, you'd have a hard time funding your retirement on that payout.
In other words, we have to dig deeper for safe, sizable yields. You can find them; it just helps to know where to look.
At our recent analyst meeting, my colleague Jing Pan suggested a review of the highest-yielding stocks in a list of Dividend Contenders. For those who haven't heard the term before, the Dividend Contenders constitute a list of stocks maintained by the non-profit DRiP Investing Resource Center. To be included in this list, companies must have raised their distributions for at least 10 consecutive years.
The end result? The Dividend Contenders list represents a basket of some of the best dividend stocks in the world—with proven track records. By sticking to the stocks inside this index, you can weed out a lot of low-quality names right away.
Let's take a look.
| | | |
| --- | --- | --- |
| Company Name | No. of Consecutive Dividend Hikes | Yield |
| Energy Transfer Partners LP | 16 | 12.5% |
| Buckeye Partners, L.P. | 22 | 12.2% |
| TC Pipelines, LP | 18 | 11.4% |
| Omega Healthcare Investors Inc | 16 | 10.2% |
| Holly Energy Partners, L.P. | 14 | 8.9% |
| AmeriGas Partners, L.P. | 13 | 8.9% |
| Spectra Energy Partners, LP | 12 | 8.3% |
| Vector Group Ltd | 20 | 8.2% |
| TransMontaigne Partners L.P. | 14 | 8.1% |
| Western Gas Partners, LP | 11 | 7.8% |
(Source: The DRiP Investing Resource Center, last accessed May 23, 2018.)
To be clear, the table above does not constitute a list of buy recommendations. Stock screens such as this only represent a place to start your research.
On the flip side, you could also interpret such high yields as a red flag. After all, if the dividends looked like a sure thing, traders would bid up share prices in order to lock in such great income streams. In these cases, a double-digit yield often signals that analysts don't believe that the distribution is sustainable.
Take one of the higher payouts on this list, Energy Transfer Partners LP (NYSE:ETP). Typically, pipeline companies have a reputation as safe investments. In this case, however, management stretched the balance sheet to fund a number of expansion projects. That strategy backfired, with mounting construction delays now putting the distribution at risk.
So should we throw out this entire list? Of course not! You do have a few really good names here.
Take another pipeline company, Buckeye Partners, L.P. (NYSE:BPL), for instance. New technologies have unlocked vast quantities of oil and gas across the country. And with more barrels flowing through its network, the partnership has seen cash flows surge over the past few years. This has resulted in tidy capital gains (not to mention distribution hikes) for unitholders.
You have a similar story at AmeriGas Partners, L.P. (NYSE:APU). It's a well-run propane distributor serving millions of customers nationwide. They pay their bills each month and you get an 8.9% dividend—a dividend, it's worth pointing out, that has rolled in without interruption for almost two decades.
Finally, take a look at Vector Group Ltd (NYSE:VGR), a hybrid tobacco and real estate company. No, this stock won't impress your friends at the next cocktail party. But for those willing to sacrifice excitement for income, that might be an acceptable trade-off. The company has paid uninterrupted cash dividends since 1995, in addition to pulling off hefty capital gains. An 8.2% dividend on this stock while 30-year Treasuries yield 3.2% is seriously attractive.
I love running stock screens like these. Every so often, you'll uncover a name or an idea you've never heard of before. Other times, it forces you to reevaluate a company you may have dismissed before.
Just don't skip your homework. Before pulling the trigger on any stock, you need to dig into the financials. Especially when we're looking at companies with such high yields, we want to ensure that the payout is sustainable.