Retirement Income: 10 Highest-Yielding Dividend Stocks in the S&P 500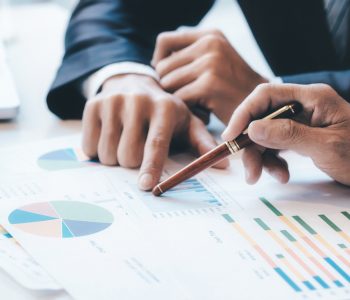 iStock.com/ijeab
These High-Yield Dividend Stocks Pay Up to 11%
Earlier this week, a reader e-mailed me about generating retirement income from high-yield dividend stocks.
"Rob, I'm approaching retirement with a small nest egg. But with interest rates so low, it doesn't generate enough income to pay the bills. What high-yield dividend stocks would you suggest investing in?"
He's not alone. Over the past decade, baby boomers saw their retirement accounts walloped by the dotcom bust and the financial crisis. That scared many out of investing in the stock market altogether.
Low interest rates have compounded that problem further. In the old days, investments in CDs or bonds threw off enough in the way of retirement income. Today, that won't pay enough to buy you a cup of coffee each day.
One solution? High-yield dividend stocks.
Admittedly, equities come with higher risk than bonds. But stocks still pay respectably, especially compared to their fixed-income counterparts. And because companies can raise prices over time, dividend stocks come with some built-in inflation protection.
The trick, of course, comes down to separating the studs from the duds. Most stocks with outsized yields also come with outsized risk. But occasionally you find a company with a respectable payout and a reasonable degree of safety.
To help get you started, I compiled a list of some of the highest-yielding dividend stocks in the S&P 500.
To be clear, the table below doesn't constitute a list of "buy" recommendations. Nor does it represent personal financial advice. It does, however, present a good jumping-off point for further research.
Let's dive into this table of high-yield dividend stocks.
| | | |
| --- | --- | --- |
| Company | Market Cap | Yield |
| Macerich Company | $4.1 Billion | 10.4% |
| Macy's Inc | $4.8 Billion | 10.0% |
| CenturyLink | $14.1 Billion | 7.7% |
| Occidental Petroleum Corp | $38.2 Billion | 7.4% |
| Invesco Plc | $8.1 Billion | 7.2% |
| Helmerich & Payne | $4.3 Billion | 7.2% |
| Altria Group | $87.1 Billion | 7.2% |
| Iron Mountain Inc | $9.8 Billion | 7.2% |
| L Brands Inc | $4.9 Billion | 6.8% |
(Source: Google Finance, last accessed October 23, 2019.)
After taking a quick glance at this table, you see why high-yield dividend stocks have a bad reputation. Several of these names are struggling businesses. I suspect that several of them could cut their distributions in the near future.
Take Macerich Co (NYSE:MAC), for instance. The partnership once generated steady rental income from its portfolio of shopping centers in the United States. That business, however, has come under pressure from e-commerce retailers like Amazon.com, Inc. (NASDAQ:AMZN), which puts future payouts in jeopardy.
That said, you do have some interesting investment candidates on this list.
Look at Occidental Petroleum Corporation (NYSE:OXY). The blue-chip oil stock has struggled in the face of low energy prices and expensive acquisitions. But assuming that oil prices don't drop below $45.00 a barrel for an extended period, this Occidental Petroleum's dividend looks reasonably safe.
Income investors should also add Iron Mountain Inc (NYSE:IRM) to their watchlists. Because the firm has structured itself as a real estate investment trust (REIT), management has to pay out most of the profits to investors. And given that document storage is a cash-cow, recession-proof business, dividend hunters can count on this trust for reliable retirement income.
Investors with a stomach for higher risk should also consider telecom player CenturyLink Inc (NYSE:CTL). The company recently slashed its dividend in the face of declining cash flows, but the new payout looks sustainable. If executives can put a floor underneath the company's declining profits, CenturyLink shares could pay off down the road.
Bottom line: I like to run a stock screen of high-yield dividend stocks every month or so. Sometimes it highlights a company that I may have overlooked.
Just do your own homework before pulling the trigger on any stock here.