10 Best Dividend-Paying Steel Stocks to Buy in 2017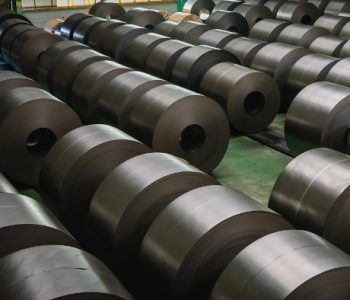 Best Steel Stocks to Buy
For the most part of the last decade, steel stocks haven't really been a hot commodity. With so many fast-growing new industries, who cares about a non-precious metal that has been around for centuries? But now, steelmakers could be making a comeback. And for income investors, it might be worthwhile to take a look at the best dividend-paying steel stocks to buy in 2017.
Steel is an alloy of iron. It is made by removing impurities such as nitrogen, sulfur, silicon, phosphorus, and excess carbon from raw iron and then adding alloying elements such as nickel, chromium, manganese, and vanadium. Because of its high tensile strength and low cost, steel has become one of the most widely used metals in the world. It is a fundamental resource for the construction of many types of buildings, is used for food and beverage cans, and is also fundamental to the transportation industry.
But this also means that steelmaking can be a cyclical business. And it is. This is one of the reasons why despite there being many steel stocks that pay dividends, they haven't really caught the attention of income investors.
However, in recent months, steel stocks have been making a strong comeback. Why? The surprise victory of Donald Trump in the U.S. presidential election.
One of the things President Trump plans to do is improving America's infrastructure. He said that, "We will build new roads and highways and bridges and airports and tunnels and railways all across our wonderful nation." Building those things require a huge amount steel. With infrastructure spending going possibly up to one trillion dollars, the best could be yet to come for steel stocks. (Source: "'Off of welfare and back to work rebuilding our country': Trump vows massive infrastructure spending," The Washington Times, January 20, 2017.)
At the same time, there could be less foreign competition to U.S. steelmakers. Over the years, steel imports—especially from Asia—have impacted the profits of steelmakers operating in America. Now, with President Trump's trade protection plan, duties and tariffs on steel imports could increase the market share of domestic steel producers and bring them back to prosperity.
Increasing infrastructure spending and trade protection are good news for the U.S. steelmaking industry. Shares of many U.S. steel stocks surged after President Trump's victory. Vaneck Vectors Steel ETF (NYSEMKT:SLX), which gives investors exposure to public companies in steel production, climbed more than 30% since November 8.
Note that steel stocks might not be the only potential winners under Trump presidency; iron stocks could have a bright future as well. This is because the primary raw material used in the production of steel is iron. In fact, in today's world, steel production accounts for approximately 98% of the demand for iron. Therefore, it makes sense that when looking at the list of steel stocks, investors should also check out some of the best iron stocks on the market today.
Now, let's take a look at the best dividend-paying steel and iron stocks for 2017.
List of Steel Stocks
| | | |
| --- | --- | --- |
| Company Name | Ticker Symbol | Dividend Yield |
| Nucor Corporation | NUE | 2.34% |
| Commercial Metals Company | CMC | 2.12% |
| Schnitzer Steel Industries, Inc. | SCHN | 2.80% |
| Reliance Steel & Aluminum Co | RS | 2.06% |
| Ternium SA | TX | 4.22% |
| Mesabi Trust | MSB | 3.96% |
| Rio Tinto plc | RIO | 3.69% |
| Vale SA | VALE | N/A |
| Worthington Industries, Inc. | WOR | 1.59% |
| United States Steel Corporation | X | 0.49% |
Best Dividend-Paying Steel Stocks to Buy in 2017
1. Nucor Corporation
Headquartered in Charlotte, North Carolina, Nucor Corporation (NYSE:NUE) is a steel manufacturer that operates primarily in the U.S. and Canada. Its products include carbon and alloy steel, hollow and structural section tubing, electrical conduit, and steel piping, among many others.
Nucor's production methods are a bit different from many of its peers. Most of the U.S. steelmakers use blast furnace production methods which require huge integrated steel mills. Nucor, on the other hand, uses electric arc furnaces and mini-mills.
Despite operating in a cyclical industry, Nucor has quite an impressive track record when it comes to returning cash to shareholders. Since it first started paying dividends in 1973, the company has been raising its payout every single year. That's 44 years of consecutive dividend hikes!
Nucor currently pays $0.3775 per share each quarter, translating to an annual dividend yield of 2.34%.
2. Commercial Metals Company
Commercial Metals Company (NYSE:CMC) is a steel and metal manufacturer based in Irving, Texas. The company operates more than 120 facilities in more than 12 countries. Its six steel mills in North America and Europe have a combined annual capacity of nearly five-million tons.
Commercial Metals Company has a quarterly dividend rate of $0.12 per share, or an annual yield of 2.12%.
Like its peers, CMC stock has enjoyed a nice post-election rally. Since November 8, 2016, shares of Commercial Metals Company have soared 33.6%. In its most recent earnings report, the company said that it is, "well positioned to capitalize" on potential changes, "in the regulatory environment related to trade, taxes, and infrastructure spending." (Source: "Commercial Metals Company Reports First Quarter Earnings From Continuing Operations Per Share Of $0.06," PR Newswire, January 9, 2017.)
3. Schnitzer Steel Industries, Inc.
Schnitzer Steel Industries, Inc. (NASDAQ:SCHN) is in the business of collecting, processing, and selling steel. The company processes scrap metal and manufactures finished steel products from its own scrap metal. It currently operates 97 recycling facilities on both U.S. coasts and in Hawaii and Puerto Rico.
Schnitzer pays quarterly dividends of $0.1875 per share, giving SCHN stock an annual yield of 2.8%.
Note that the company also owns and operates Pick-n-Pull, a self-service used auto parts network that has 54 auto recycling facilities in the U.S. and Canada. It purchases around 350,000 used and salvaged vehicles each year from tow companies, private parties, auto auctions, city contracts, and charitable organizations.
4. Reliance Steel & Aluminum Co
Reliance Steel & Aluminum Co (NYSE:RS) is the largest metal service center company in North America. Headquartered in Los Angeles, California, Reliance provides metals processing services and distributes a full line of over 100,000 metal products to more than 125,000 customers in a wide range of industries. The company has a network of more than 300 locations in 40 states and 12 countries outside the U.S.
Reliance is one of the dividend-paying steel stocks. With a quarterly payout of $0.45 per share, the company has an annual dividend yield of 2.06%.
5. Ternium SA
Ternium SA (NYSE:TX) is a manufacturer of flat and long steel products. The company, along with its subsidiaries, have 16 production centers in Mexico, Argentina, Columbia, the U.S., and Guatemala. Ternium produces steel through a highly integrated production procedure. Its facilities are responsible for the whole manufacturing process of steelmaking, from the mining of iron ore to the production of high value-added products.
In 2016, Ternium's steel shipments increased two percent to 9.76 million tons. Net income came in at $706.9 million, a massive improvement from the $59.8 million earned in 2015. The increase was due to higher operating income, better results from non-consolidated companies, and lower net financial expenses. (Source: "Ternium Announces Fourth Quarter and Full Year 2016 Results," Ternium SA, February 21, 2017.)
Ternium's board of directors has proposed an annual dividend of $1.00 per share to be approved at the company's annual meeting in May 2017. If the dividend gets approved, it would translate to an annual yield of 4.2% at today's stock price.
6. Mesabi Trust
Steel stocks are not the only ones worth watching for income investors. With iron ore being the primary raw material used in steel production, it could be rewarding to take a look at some iron stocks.
Mesabi Trust (NYSE:MSB) is a royalty trust that earns income from a number of iron ore mining operations in the U.S. The company has interest the Peter Mitchell Mine located near Babbit, Minnesota. The mine is operated by Northshore Mining Company, which pays royalties to Mesabi Trust based on the selling price of iron ore pellets shipped from its pellet plant and a much smaller royalty based on the tons of iron ore extracted at the mine.
Mesabi's current quarterly dividend rate is $0.14 per share, giving it an annual yield of 3.96%.
7. Rio Tinto plc
Rio Tinto plc (NYSE:RIO) is one of the largest metal and mining companies in the world. It has 55,000 employees working in more than 50 countries across six continents. The company has four main product groups: Aluminum, Copper and Diamonds, Energy and Minerals, and Iron Ore.
Most recently, the company's Iron Ore group delivered solid performance. In 2016, underlying earnings before interest, taxes, depreciation, and amortization (EBITDA) from Iron Ore increased 11% year-over-year, while underlying earnings from the segment improved 17%. (Source: "Rio Tinto announces cash generation of $8.5 billion and $3.6 billion of shareholder returns," Rio Tinto plc, February 8, 2017.)
Rio Tinto determines its dividend at the end of each financial period. Based on the amount of dividends declared in the past 12 months, the company was yielding 3.69%.
8. Vale SA
Speaking of iron stocks, it's hard to ignore Vale SA (NYSE:VALE). Vale is the largest producer of iron ore and iron ore pellets in the world. The company is also the world's largest producer of nickel, which is used to produce stainless steel and metal alloys.
Headquartered in Rio de Janeiro, Vale has operations around the world. Right now, iron ore and iron ore pellet production accounts for approximately 65% of the company's total revenue.
As the biggest producer in the business, you might think that Vale pays solid dividends. However, that's not really the case. Last year, due to the downturn in commodity prices, the company said that it would stop proposing a minimum dividend payment for every year. Vale's most recent dividend was $0.048 per share paid last December.
Still, Vale stock managed to skyrocket 245% over the past 12 months.
9. Worthington Industries, Inc.
Worthington Industries, Inc. (NYSE:WOR) is a diversified metals manufacturing company. Headquartered in Columbus, Ohio, the steel processor sells its products and services to automotive, construction, and agriculture markets. The company currently operates 79 facilities in 11 countries.
Trading at $50.50 apiece, Worthington Industries has a price-to-earnings multiple of just over 16 times, making it one of the cheap steel stocks on the market. The company also pays quarterly dividends of $0.20 per share, giving WOR stock an annual yield of 1.59%.
Despite challenging market conditions, Worthington's managed to grow its sales. In the second quarter of the company's fiscal 2017, ended November 30, 2016, Worthington's net sales increased four percent year-over-year to $727.8 million. (Source: "Worthington Reports Second Quarter Fiscal 2017 Results," Marketwired, December 19, 2016.)
10. United States Steel Corporation
United States Steel Corporation (NYSE:X) is an integrated steel producer headquartered in Pittsburgh, Pennsylvania. The company's major operations are in North America and central Europe. It has an annual raw steelmaking capability of 22-million net tons.
U.S. Steel currently pays $0.05 per share on a quarterly basis, translating to an annual dividend yield of 0.49%.
Things haven't been going that well at U.S. Steel, but they were still better than expected. The company reported earnings last month. In the fourth quarter of 2016, U.S. Steel's adjusted earnings came in at $0.27 per share, a massive beat compared to Wall Street's expectation of $0.01 of earnings per share. (Source: "United States Steel Corporation Reports Improved 2016 Results With Increased Operating Cash Flow And Stronger Cash And Liqiudity," United States Steel Corporation, January 31, 2017.)
Since its earnings release, U.S. Steel stock has surged over 25%.