1 Top Dividend Stock For the Next 10 Years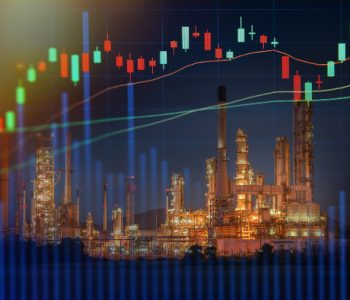 iStock.com/Kanoke_46
This Top Dividend Stock Yields 5.5%
Over the next decade, few industries will likely produce more top dividend stocks than pipelines.
America now gushes oil. Thanks to a wave of new technologies, U.S. energy production has more than doubled over the past decade.
Such a boom has pushed the industry's infrastructure to the limit. The country needs more of everything, from pipes and processing plants to terminals and storage tanks. Owners with assets already in place have made out like bandits.
One of the biggest winners: Magellan Midstream Partners, L.P. (NYSE:MMP). Units have cranked out double-digit annual returns almost like clockwork. And since going public in 2001, the master limited partnership has boosted its payout on 62 occasions. Will its winning streak continue? Let's dive into the numbers here.
At the moment, Magellan's profits more than cover its distribution. Last year, the partnership generated $947.5 million in distributable cash flow (DCF). Through this period, management dolled out $739.2 million in distributions. That comes out to a payout ratio of 78%. This represents the upper limit of what I consider a safe distribution. Management has still left themselves plenty of room to deal with a bad year or two.
Those profits should continue to grow. Since 2013, executives has plowed $1.9 billion back into their business. This includes a number of new infrastructure projects, particularly in the fast-growing Permian Basin of West Texas.
Also Read:
Pipeline Stock List: Collect Reliable Dividends from These Pipelines Stock
With more barrels flowing through its network, Magellan can change more fee income. Over the next five years, analysts project cash flows will grow at a high-single-digit clip. Based on management's track record, the distribution should increase more or less in line with profits.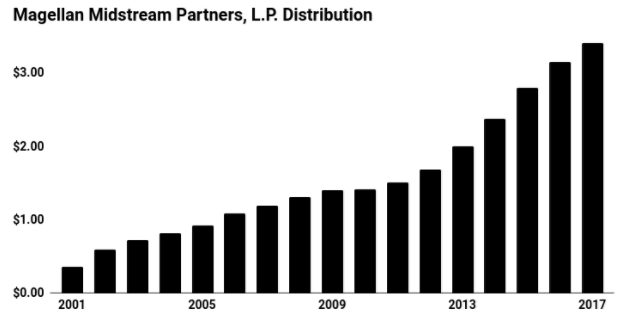 Source: "Magellan Midstream Partners, L.P. (MMP)," Yahoo! Finance, last accessed November 28, 2017.

You can't call Magellan a slam dunk, of course. Investors prize pipeline stocks for their bond-like distributions. But if interest rates rise, traders will swap out of these units for safer interest payments.
A sustained period of low oil prices could clip Magellan, too. Pipelines, by and large, don't have much exposure to wild swings in the energy market, and their business depends more on volumes. However, lower crude prices would eventually dial back industry output, which would mean smaller distribution hikes for unitholders.
That said, Magellan enjoys growing cash flow that more than covers its distribution. I'm confident these payments will keep rolling in and continue growing for the foreseeable future. For those reasons, it's one of my top dividend stocks for 2018 and beyond.