1 Top Dividend Stock for the Next 10 Years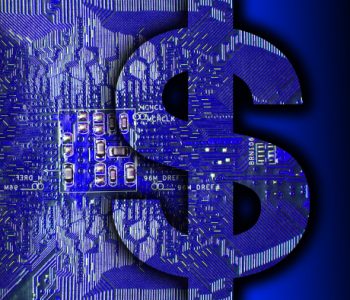 A Top Dividend Stock for 2027
Today's chart highlights what I consider a top dividend stock for the next 10 years: Cisco Systems, Inc. (NASDAQ:CSCO).
Regular readers know we look for "picks and shovels" to profit from any trend. These companies supply tools, products, and services to a booming sector.
You can see this at work on CSCO stock. Cisco helps firms manage their growing number of Internet-connected devices. Business has boomed thanks to the emerging "Internet of Things" (IoT), the growing trend of connecting everyday objects to the Internet.
Income investors should take note.
Today, 15.4-billion devices have an Internet connection. That number could hit 74.5 billion by 2020, according to IHS Markit. (Source: "IoT Trend Watch 2017," IHS Markit Ltd., last accessed April 10, 2017.)
Such growth will give new meaning to the term "big data." By 2025, these devices will generate 163 zettabytes of information each year. For perspective, you would need 115-billion laptops just to store that annual data deluge. (Source: "Data Age 2025," Seagate Technology PLC, last accessed April 10, 2017.)
Companies need help trolling through all of this information. Annual revenues for IoT vendors selling software and services could top $470.0 billion by 2020. This represents one of the fastest-growing industries over the next decade. (Source: "How Providers Can Succeed in the Internet of Things," Bain & Company, Inc., last accessed April 10, 2017.)
Cisco has already staked the best claims in the coming Internet gold rush. Last year, the company spent $1.4 billion to acquire IoT provider Jasper Technologies, Inc., a move which leapfrogged Cisco to becoming the top vendor of IoT services. (Source: "Cisco Completes Jasper Acquisition," Cisco Systems, Inc., March 22, 2016.)
In the meantime, we get well paid to wait. Cisco pays a quarterly dividend of $0.29 per share, which comes out to an annual yield of 3.5%. If you include stock buybacks, the total shareholder yield on this stock jumps to 6.5%.
As you can see in the chart below, this has translated into good returns. Cisco stock has thrived, recently hitting a 10-year high.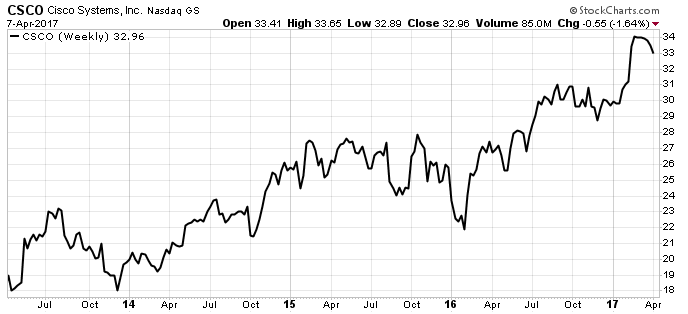 Source: StockCharts.com
Those returns should continue. Even if the IoT only lives up to a fraction of the hype, the market here has big potential. Analysts project Cisco's earnings per share will grow at a 10% annual clip over the next five years. You can expect ongoing dividend hikes at a comparable rate.
In conclusion, I suggest sticking to picks and shovel plays in the coming IoT boom. You can strike it rich on a hot startup, but blue-chip names like CSCO stock make for far surer profits. And given the size of the opportunity here, this could make one top dividend stock for the next decade or more.