1 Top Dividend Stock for 2017… and Beyond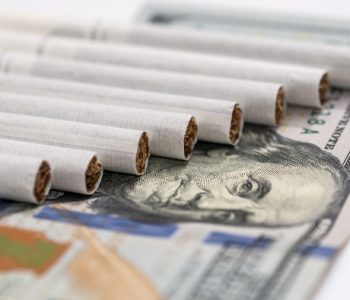 A Top Dividend Stock to Own Forever?
Today's chart highlights one of our top dividend stocks at work.
You don't need flash or innovation to make money. "Boring" products like beer, soft drinks, and fast food make the surest investments around. In fact, they form the foundations of some of the most profitable businesses in the world.
For proof, let's look at cigarette giant Altria Group Inc (NYSE:MO). Known for its "Marlboro" and "Virginia Slims" brands, it makes one out of every two cigarettes sold in the country. While this top dividend stock won't wow friends at your next cocktail party, I love this business for a couple of reasons.
First, it makes money hand over fist. A cigarette costs pennies to make, you sell it for a dollar, and it's addictive. This formula has allowed the company to crank out oversized dividends for decades.
Gross margins (profits before the basic costs of doing business) top 60%, while net margins (profits after all expenses) come in at 25%. I can only think of a handful of businesses in the world this profitable.
Better still, it's boring. Innovation promises something new. However, you need to spend a lot of cash to reinvent your business every other year. And even if you're great at it, like Apple Inc. (NASDAQ:AAPL), Facebook, Inc. (NASDAQ:FB), or Tesla Inc (NASDAQ:TSLA), you'll probably stumble at some point.
Altria makes the same product today as it did 50 years ago. The company doesn't innovate, but it doesn't have to. This frees up a huge amount of cash flow, which executives can dish out as dividends.
Finally, it's lucrative. Management targets a payout ratio of approximately 80%–far higher than most stocks. Today, Altria pays a quarterly dividend of $0.61 per share, which comes out to an annual yield of 3.3%.
As you can see in the chart below, shares of MO stock recently broke out to an all-time high. The key to Altria's success hasn't been shooting the lights out with high returns in short bursts. Rather, it's about sustaining average returns over long periods of time.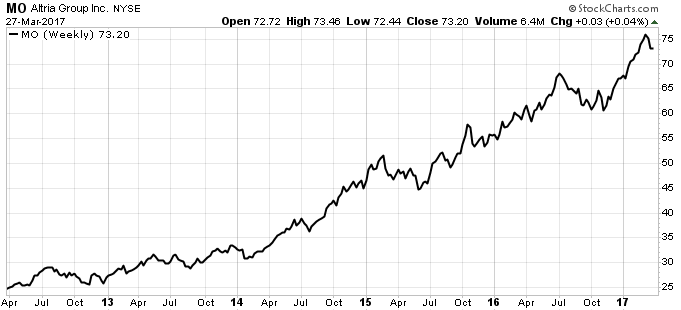 Source: StockCharts.com
You can expect more dividend hikes in the years ahead. Sure, tobacco use peaked years ago. Cigarette prices, though, have soared almost five times faster than overall inflation since 1950. These steady price hikes should translate into bigger cash flows (and bigger dividends) for shareholders.
Bottom line: the best investment ideas often come from firms moving boring, everyday products. No, they won't impress your colleagues around the water cooler. These top dividend stocks, however, can create a stream of income for 2017 and beyond.