CPLP Stock: 1 Overlooked High-Dividend Stock Yielding 9.44%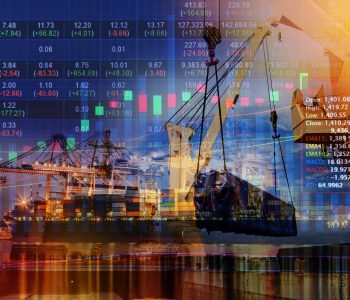 This High-Dividend Stock Now Yields 9.44%
Today's column is about a high-dividend stock that's currently yielding 9.44%–Capital Product Partners L.P. (NASDAQ:CPLP) stock.
Capital Product Partners is a diversified international shipping company. It owns and operates a fleet of vessels that transport a wide range of cargo, such as crude oil, refined oil products, dry cargo and containerized goods. Shares of this high dividend stock currently trade at $3.40 apiece, giving it an annual dividend yield of 9.44%.
Readers of Income Investors are well aware that a high dividend yield could simply be a byproduct of terrible stock price performance. And in CPLP stocks' case, that is true; the partnership's share price fell deep into the doldrums over the last two years. With a dividend cut and a struggling large customer, shares of this shipping partnership are far from being a hot commodity.
But now, the partnership's dividend has stabilized, and it has restructured a charter agreement with that customer. So it might be time for investors to reconsider this high-dividend stock. As I said many times in my column, when a situation turns out to be "not as bad as you think," there could be huge opportunities.
Of course, for income investors, a company is only worth considering if it has a solid business model. There are many turnaround opportunities in today's stock market. But as investors with more conservative risk profiles, we are only going to focus on opportunities that are based on durable businesses.
Capital Products Partners runs a fleet of 36 high-specification vessels, including four "suezmax" crude oil tankers, 21 modern medium-range product tankers, 10 "Neo Panamax" container carrier vessels, and one capsize bulk carrier.
Modern High-Specification Fleet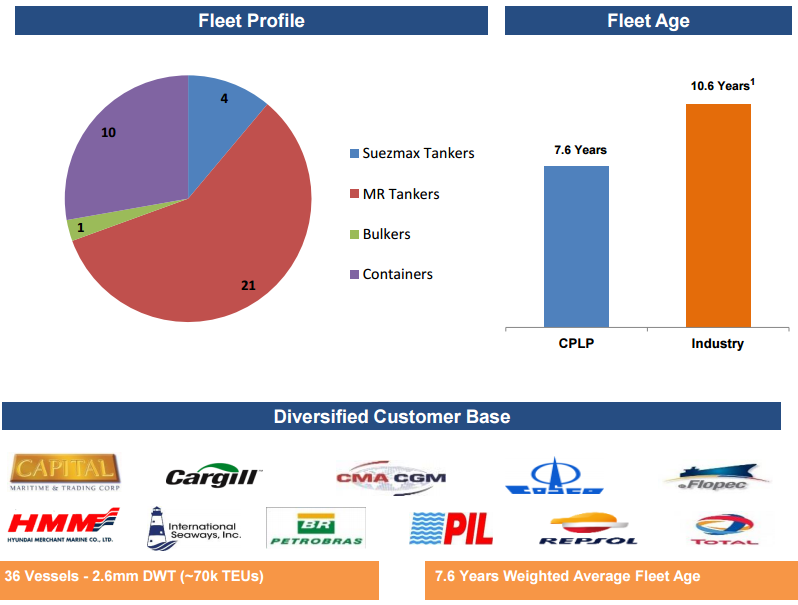 Source: "Fleet Slides," Capital Product Partners LP, last accessed May 24, 2017.
When it comes to investing in a company that owns a fleet of vessels, it's important to note that vessels are not "forever assets" and they do depreciate. In Capital Product's industry, the average fleet age is 10.6 years. Capital Product, on the other hand, has a relatively young fleet with an average age of just 7.6 years.
Having a modern, high-specification fleet is a good start. But to make money, the fleet needs to be chartered. The good news is that Capital Partners achieved charter coverage of 85% for 2017 and 50% for 2018 by the end of March. The average remaining charter duration is 5.5 years.
On top of that, it also helps that Capital Partners has a diversified customer base. Companies that charter its vessels include established names like Repsol S.A., International Seaways Inc (NYSE:INSW), Cargill Inc, and Total S.A., among many others.
High Dividend Stock Backed By Solid Financials
Not every high-dividend stock has solid financials. And while it hasn't always been smooth sailing for Capital Product Partners, the shipping partnership managed to maintain a strong financial profile.
By the end of March, Capital Product Partners had a debt-to-capitalization ratio of 29.9%. What's more is that the partnership has also added $14.6 million to its capital reserve in the first quarter of this year. The capital reserve is aimed to cover Capital Product's all-debt amortization payment through the end of 2018.
As is the case with any high-dividend stock, distribution coverage is a key consideration for income investors. In the first quarter of 2017, Capital Product Partners achieved a distribution coverage ratio of 1.5 times, leaving a margin of safety. Note that this ratio is calculated after taking into account its capital reserve and distributions to its Class B preferred unitholders. (Source: "Capital Product Partners L.P. Announces First Quarter 2017 Financial Results and Fleet Employment Updates," Capital Product Partners LP, April 28, 2017.)
Also Read:
MLP Stock List: Earn Reliable Income from These Energy Partnerships
5 Cheap High Dividend Stocks for 2017
Don't forget that Capital Product can benefit from its commercial and technical management agreement with Capital Maritime & Trading Corp, which also happens to be its sponsor. For instance, right now, Capital Product has the option but not the obligation to grow its fleet with five newbuild eco medium-range product tankers from the sponsor.
The Bottom Line On This High-Dividend Stock
At the end of the day, charter rates for vessels could keep on fluctuating. This means uncertainty could continue to be a theme in the shipping industry. But at Capital Product Partners, the risk is mitigated by the partnership's relatively long-term charter agreements and staggered expirations. The fact that the partnership is accumulating cash before debt repayments are due should also be a welcoming move for investors. Among the high-dividend stocks trading in today's market, Capital Product Partners L.P. (CPLP stock) is one of the few names worth considering.