Enbridge Inc: 1 Dividend Stock for the Next 10 Years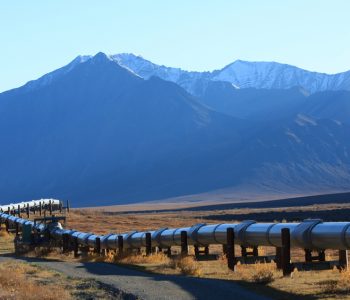 Dividend Growth From Enbridge Stock
Sometimes, bad things happen to good companies. Case in point: Enbridge Inc (NYSE:ENB) stock.
For most of the past two years, Enbridge stock has drifted lower. In early 2015, shares traded as high as $55.00 a piece. Investor interest in pipelines has waned, though. Over the past year, shares traded as low as $28.00, off more than 40% from its all-time high.
What happened? Well, a couple of things.
First, Enbridge stock was hammered by the drop in oil prices. With the selloff in the energy patch, investors sold off the entire sector. Even relatively safe names like pipelines weren't spared from the carnage.
Second, getting a new pipeline in the ground has become harder than pulling teeth. Environmentalists have successfully stopped new developments in their tracks. Enbridge's massive $27.0-billion Northern Gateway pipeline has found itself snared up in the red tape.
So, is it time to drop Enbridge stock? Hardly. If you believe in buying wonderful businesses when their shares are on sale, Canada-based Enbridge might be worth a look. Here's why.
1 Top Dividend Stock for 2017… and Beyond
Enbridge belongs to an elite group of companies I like to call my "Dependable Dividend Growers" (DDGs).
DDGs are some of the largest, most profitable businesses around. Their competitive advantages results in steady revenues, robust cash flows, and oversized profit margins. This allows them to produce market-beating returns and growing dividends decade after decade.
You can think of these businesses like the "beachfront properties" of the stock market. Dozens of the companies on this list have paid growing dividends for decades. Some longtime stockholders are earning triple-digit yields based on the price of their original purchases.
Enbridge's status as a DDG comes down to a couple of points.
First, a company needs a long, visible growth runway. You can't just pull dividend hikes out of thin air. You need a growing stream of profits and cash flows to fund bigger payouts for shareholders.
Enbridge's recent purchase of Spectra Energy Corp. (NYSE:SE) accomplishes exactly that. If approved by regulators, the massive new company will control more than 18,600 miles each of oil and natural gas pipelines across the continent. The $37.0-billion deal will create North America's largest energy infrastructure company, split almost evenly between oil and natural gas transit.
The deal is a big win for shareholders. The combined entities will have over $26.0 billion in secured expansion projects. Altogether, management expects adjusted fund flows from operations to grow 12% to 14% per share through 2019, a pace that's difficult to find in the oil patch today. (Source: "Enbridge Inc. and Spectra Energy Corp Combine to Create North America's Premier Energy Infrastructure Company," Enbridge Inc, September 6, 2016.)
The second sign of a DDG is thick, growing profit margins. Wide profits margins signal the company has a competitive advantage in the marketplace. And as those get bigger, management is able to return more money to shareholders through dividends.
Enbridge is a virtual cash cow. Because pipelines tend to be natural monopolies, the company is able to crank out oversized profits from existing assets without competitors eating into margins. As a result, Enbridge routinely cranks out operating margins north of 10%.
The company's Spectra acquisition could boost margins further. The deal is expected to result in $540.0 million in cost savings by late 2018. More dollars flowing to the bottom line could be a catalyst for Enbridge stock.
Finally, DDGs have robust dividends. We want to see companies that put shareholders first. This is usually evident through long histories of paying large, growing dividends to shareholders.
Enbridge knocks it out of the park here. The company has been paying distributions since 1958. In December 2015, management announced the 21st consecutive hike to shareholders. (Source: "Why Invest," Enbridge Inc, last accessed December 15, 2016.)
That tradition is likely to continue. In their presentation to shareholders, executives promised to boost the payout 15% this year assuming the Spectra acquisition is completed. Afterwards, management projects the payout to grow by 10% to 12% annually through 2024.
Also Read:
The Top 10 High-Dividend Stocks with Growing Payouts
Pipeline Stock List: Collect Reliable Dividends from These Pipeline Stocks
Of course, Enbridge stock is no slam dunk. A rout in oil prices could trigger another selloff. If regulators block the Spectra acquisition, a lot of the potential catalysts mentioned above disappear.
Promised dividend hikes are not in the bag, either. Distribution increases will depend on future profits and cash flows. Payout bumps will still need to be approved by board.
I'm not too worried about these risks, though. Enbridge is a fee-based business, which means its profits are relatively immune to energy prices. And while there's a small risk the acquisition won't be approved, I would still be comfortable owning a wonderful business like Enbridge with or without Spectra.
I'm also confident that management will deliver on bigger dividends over the next decade. Even before the Spectra purchase, Enbridge was on track to grow profits at a high-single-digit clip. Executives also wouldn't have made such a bold promise unless they were sure they could deliver.
Bottom Line on Enbridge Stock
You don't need an MBA to understand the wisdom of investing in DDGs. As the dividend grows, yield-hungry investors start to bid up shares in line with the increasing payout. This is a common phenomena we see in other top growth stocks like PepsiCo, Inc. (NYSE:PEP); Johnson & Johnson (NYSE:JNJ); and Procter & Gamble Co (NYSE:PG).
Enbridge is a longtime member of that club. And thanks to its recent acquisition of Spectra Energy, that payout is likely to keep growing over the next decade. That could make it a top dividend stock for the next 10 years, and beyond.