1 Dividend Stock to Own and Never Sell?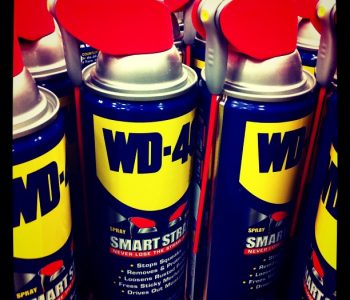 My Favorite Dividend Stock for 2020 & Beyond
If I could teach investors one thing, it would be how to identify and value "Forever Assets." These businesses constitute the single best way, at least in my opinion, to get rich through dividend stocks.
I coined the term Forever Assets to describe an elite group of dividend stocks you could literally own for the rest of your life. These companies have rewarded their shareholders, not just for years or decades, but for generations. Their entrenched market positions allow these businesses to earn outsized profits, resulting in large, growing streams of dividends for their shareholders.
You can see many examples of this in my paid advisory Passive Monthly Income.
Bank of Montreal (NYSE:BMO) started mailing out checks to shareholders before the invention of the light bulb. Brown-Forman Corporation (NYSE:BF.A, NYSE:BF.B) got into the whiskey business after the Civil War. Hershey Co (NYSE:HSY) has made sweet treats for chocolate lovers—and has paid dividends to investors—for over a century.
Today I want to bring you another textbook example in WD-40 Company (NYSE:WDFC).
Now stick with me here. Admittedly, lubricant and rust protection products won't make for the best gossip at a party. But this quiet business has paid out dividends to shareholders for decades. And I think WDFC stock could keep delivering presents to investors for decades to come.
WD-40 can trace its roots back to the 1950s in a small lab in San Diego. Their first customer, aerospace contractor Convair, purchased the company's solvent to protect the outer skin of the "Atlas Missile" from rust and corrosion. The product worked so well, workers snuck cans of WD-40 out of the plant to use at home. (Source: "Our History," WD-40 Company, last accessed December 30, 2019.)
Over the following decades, the familiar blue-and-yellow aerosol bottles became fixtures in garages and home workshops nationwide. Management estimates that eight out of 10 U.S. households have at least one can of WD-40 in their home. And today, the business generates $423.0 million in net sales each year. (Source: "Corporate Overview November 2019," WD-40 Company, last accessed December 30, 2019.)
That revenue figure might surprise some readers. Many people buy a can of WD-40, use it a few times, then leave it on a shelf for months or years. So how does the company make so much money?
Two ways: first, the company ships WD-40 worldwide to customers in over 170 countries. Today, more than two-thirds of the company's sales come from overseas.
Second, hobbyists and home handymen account for only a small slice of revenues. The low-end consumer only uses around $0.40 of WD-40 a year. But heavy consumers, like artisans, mechanics, and tradespeople, use much more. Those working commercially use up to $70.00 of WD-40 annually.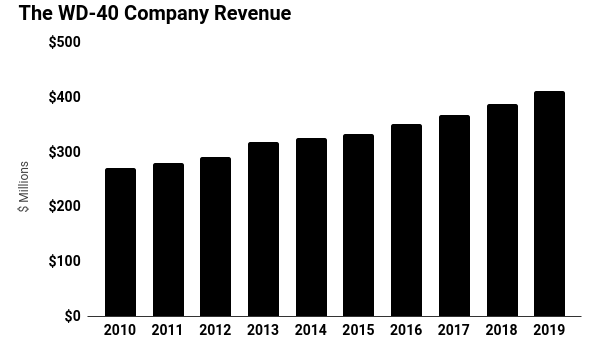 (Source: "Investor Relations," WD-40 Company, last accessed December 30, 2019.)
The company's status as a "Forever Asset" comes down to a few points: a timeless business, lower costs, and large barriers to entry.
Most people use WD-40 to loosen bolts and quiet squeaky hinges. But the company's cult-like followers have invented thousands of uses: exterminating cockroaches, pulling off stuck rings, cleaning crayon marks from walls, etc.
I can't predict what type of gadget or social media site people will be going gah-gah over next. But I can easily imagine my grandkids and great-grandkids buying cans of WD-40.
One advantage of running a simple business is lower costs. High-flying technology and pharmaceutical companies have to spend billions of dollars on research each year. And if they miss the "next big thing," the penalty for failure could be catastrophic.
Forever Assets like WD-40 Company, however, don't face this burden. They can sit back, making the same great product decade after decade. With less in the way of expensive research to fund, more dollars can flow to the bottom line. Over time, this results in outstanding returns for shareholders.
But here's the best part: decades of fostering business relationships make it tough for rivals to break in. Retailers don't like to grant shelf space to unproven suppliers. Moreover, years of marketing distinguishes WD-40's trademark blue-and-yellow cans on store shelves.
Sure, you or I could create and market a similar knockoff product. But without billions of dollars in marketing dollars, it would be impossible to replicate these relationships overnight. This allows WD-40 Company to earn outsized profits with little fear of competitors biting into its margins.
Just how profitable has this business been for shareholders?
In the financial world, we use a metric called return on invested capital (ROIC) to measure performance. This metric divides how much money a company made in profit by how much cash people invested in the business. Higher returns are better, of course. But the greatest businesses can sustain high returns over long periods.
WD-40 Company's investment returns jump off the page. In 2016, the business generated $0.33 in profit on every dollar of debt and equity that stakeholders invested in the business. The company cranked out $0.32 on the dollar in 2017, $0.31 in 2018, and $0.27 in 2019. (Source: Ibid.)
You see companies generate returns like that from time to time. Eventually, however, the competition begins to bite into their margins. WD-40, however, has managed to sustain its profitability for decades. That puts it in the league of elite dividend stocks like Colgate-Palmolive Company (NYSE:CL), Walt Disney Co (NYSE:DIS), and Coca-Cola Co (NYSE: KO).
As you can see in the chart below, that has resulted in outstanding gains for WD-40 stock.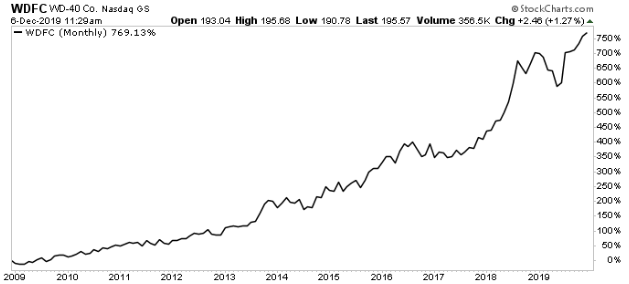 Chart courtesy of StockCharts.com
What does management do with all of this money? For the most part, they pay it out to shareholders.
WD-40 Company has paid dividends without interruption since 1979. In December, executives boosted the payout for the 10th consecutive year.
Management also returns mountains of cash to investors through stock repurchases. In 2019, WD-40 repurchased approximately 176,000 of its own shares, at a total cost of $29.6 million. Over the last five years, WD-40 executives have spent over $145.0 million on WDFC stock. (Source: "Corporate Overview November 2019," WD-40 Company, op. cit.)
What does this mean for shareholders? Think of a cake divided into slices. By reducing the number of pieces, each individual piece becomes larger.
It works the same way for businesses. Over the past decade, WD-40's buyback program has reduced the total number of outstanding shares by about one-fifth.
This increases the remaining investors' claim to future earnings, boosting the value of each individual share. For this reason, I often describe stock buybacks as a kind of "stealth dividend."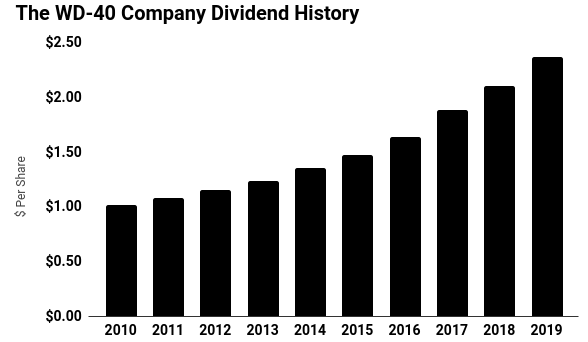 (Source: "Dividend History," WD-40 Company, last accessed December 30, 2019.)
Of course, you can't call any company a sure thing.
"Diworsification" is the biggest risk when investing in Forever Assets. Peter Lynch coined this term to describe managers who get bored running a simple, outrageously profitable business. Rather than continuing to milk their operations for big returns, they start plowing shareholder capital into less profitable ventures.
Coca-Cola Co sank in the 1980s after the company purchased filmmaker Columbia Pictures. Energy producer Mobil Oil lagged during the 1970s energy boom after it purchased failing retailer Marcor.
WD-40 Company, however, has avoided this trap. Management has quietly accumulated a handful of other household brands, such as "3-In-One," "Lava," "Spot Shot," "Carpet Fresh," "GT85," "Solvol," and "2000 Flushes."
When you look at these different products, you'll see that WD-40 executives haven't gone outside the company's core competency: making products you might find in the garage or under the household sink. That focus explains why WD-40 stock has shot the lights out over the past decade.
"Focus is so important," said CEO Garry Ridge in a 2015 interview. (Source: "Q&A: WD-40 CEO Garry Ridge explains company's slick success," Los Angeles Times, July 30, 2015.)
"You have to know what you understand and what you don't understand. A lot of companies like to diversify but we call it 'de-worsify,' where you keep looking for that shiny new penny because what we're doing sometimes gets boring."
Bottom line: Forever Assets constitute some of the best dividend stocks on the market. In the case of WD-40 Company, you have a textbook example.
By selling a timeless product, management has created a lucrative income stream that will likely continue for decades, maybe even a century.